Wedding Compere Ringmaster
It started with being "Zidler" for the Celtic Manor Resorts' touring Moulin Rouge show, then guest Ringmaster for No Fit State , Zippos' Circus, Pick N Mix Circus and Cirque Surreal , add in his experience as a hotelier, chef and toastmaster and you have a the perfect package to make your day very special.
Now we also offer a Circus Handfasting that seals the knot with a customised ceremony.
His reassuring voice , great presence , whip and sense of fun has assisted the proceedings, eased the way, provided directions and gentle reminders for an increasing number of weddings, banquets and Dining Ins across the country.
Sarah and Trevor fells' Wedding Lake District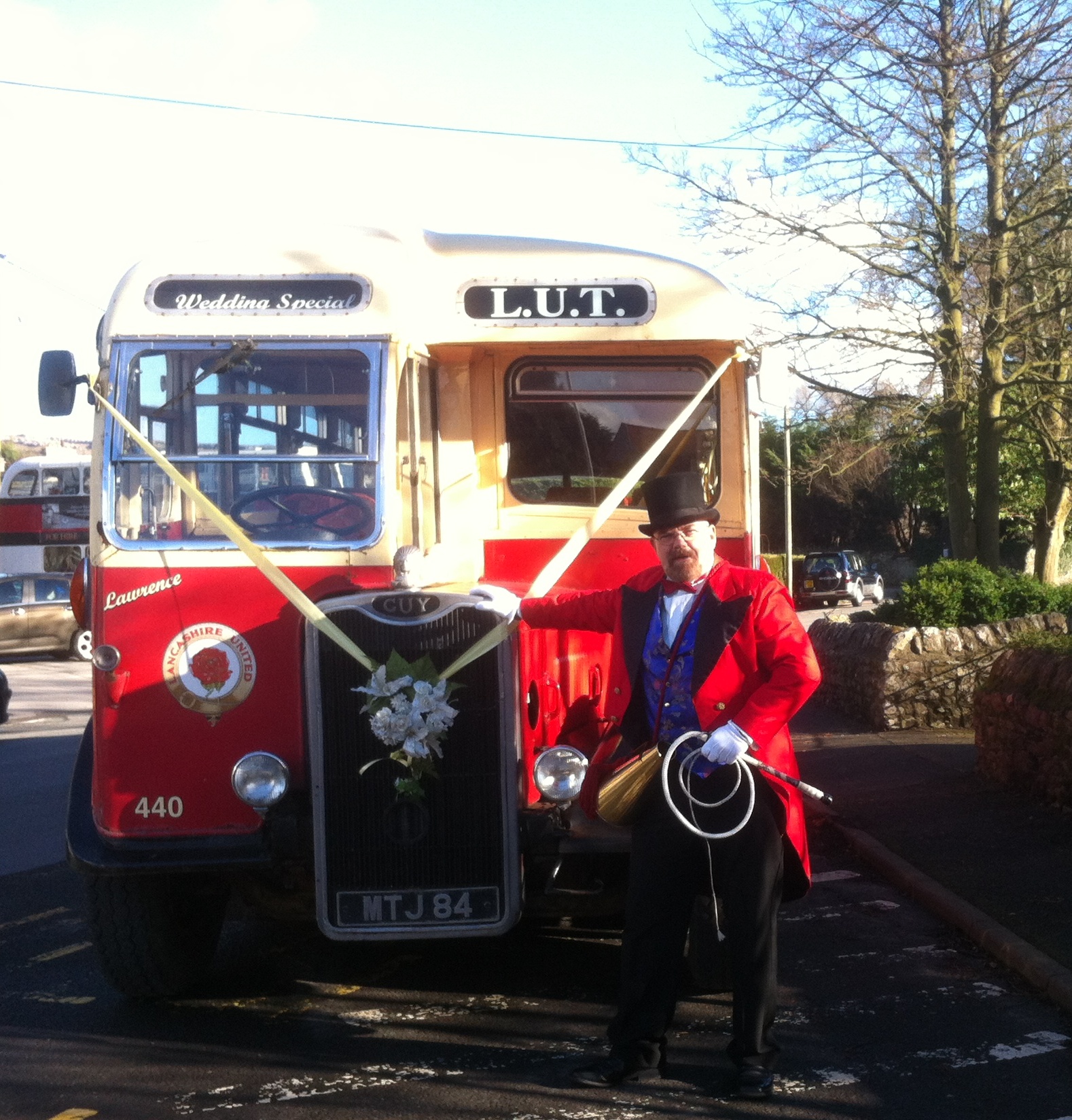 For Sarah and Trevor Fells' wedding up in the fabulous Lake District, the entire village had helped Mum and Dad turn the Village Hall into a full on Circus Tent.
He was the guests escort and travelling entertainer, usher, photographers mate , brides' Mum's best friend, concierge, toastmaster and put the Best Men through their paces before the first dance. This what they had to say after the wedding.
Sam and Lizzie McEvillys' Alice in Wonderland Wedding. Dorset 2017
A real joy to be involved with these two lovely people and their families in an amazing setting . We wrote the ceremony together then he acted as Meet and Greet as the guests arrived, officiated for the Circus Handfasting, provided a Garden Circus Cabaret Show, table entertainment before the meal and then Toastmaster for the Wedding Breakfast.
Do please contact us to what we can do to make your day this special,
Paul and Dee Ralleys' Circus Wedding @ No Fit State Circus HQ Cardiff
Wedding Entertainment
If you don't need the services of an upfront Ringmaster/ Compere / Toastmaster but still need to have someone Meet and Greet your guests on arrival, entertain the adults and children during the Reception? The a circus workshop and balloon modeler for the young and older guests is a lovely ice breaker, that will get them in the mood for the wedding breakfast.
Do please note: we do not provide nursery provision, parents and guardians need to accompany the children and we will provide quality entertainment within the main room or gardens to keep the little blighters marginally quieter than they could be.
Other themes are available .. , do please email or call Peter on 07875 826 773 to discuss your needs and obtain a no obligation quote.
Event Entertainment
Fetes, fairs and festivals need quality entertainment, and we have a range of shows and walkabout acts that are just the ticket, for example:
"The Day the Circus came to Town"
Classic family entertainment circus shows, the Ringmaster is here but what about the stars of the show?? something has gone wrong!
"The Show must go on!
Features: the Spinning Plates of Doom , The Hula Dancers from Hawaii, Ronald the Ropey Magician, The Balloon Modelling Belles of Belvoir, Lovely Louise and the Lasso of Love
Up to two or three shows daily or with walkabout entertainment of a mobile circus workshop, balloon modelling or giant bubbles.
The "More Danger" Circus Show
This vintage styled show fits nicely into " Old Time Music Hall," Halloween and Victorian entertainment themed event.
available as a solo or a double act show for stage or cabaret.
Please contact Peter for the technical specs for the show .. No! it won't fit in your front room, he's got a 20 foot bullwhip!!! :-)
Children's Circus themed parties can be available, but...they are reassuringly expensive.........:-)
Dickensian and Victorian circus shows
Elegant, boisterous with a darker edge to suit the occasion, whether its a Victorian Faire, a Variety Hall or a Dickensian Day, all the fun of the variety shows of old can be yours with an eloquent, bodacious, magnificently mustachioed Master of Ceremonies providing displays of prestidigitation, jongleuration and fouettitation !!
Up to two or three shows daily or with walkabout entertainment of a mobile circus workshop, balloon modelling or giant bubbles.
the Charlie Bubbles show
and the Musical Bubble Trike.
He's searching for the perfect bubble shape and needs as much help as he can get!
Large bubbles, small bubbles, bubbles you can catch, bubbles inside bubbles, flying bubbles , ride on bubbles, bubble shapes you can spin, bubble bursting competitions, Charlie and the audience try them all in a glorious slapstick round of fun and games to suit all ages.Shows and the musical, magical bubble trike for walkabout.
see also the Hysterical page for more themes