Be taught knife throwing by the only live target circus knife thrower in the UK featured at The Glastonbury Festival Circus and Theatre Fields and with shows at Sheffield Town Hall BJC Gala Show, Crawley Circus Festival , The Four Seasons Hotel, Performers Without Borders Ball and Michael Eavis' St Michaelmass Festival.
Enormous fun teaching Lee Mack, Danny Baker and the crew of Sky Televisons' "Duck Quacks Don't Echo"
Relax with an Axe!
We have small ones, large ones, slim ones, heavy ones, hand forged ones, pocket ones, flying ones, card shaped ones and for the ultimate outdoor workshop we haved teamed up with Frontier Activities to do justice to the classic Viking throwing axes.
Indoors or out, throwing axes and knives is enormous fun and with the right teacher, very easy to master.
Corporate Team Building Days with indiana jones, Nordic, and western themes available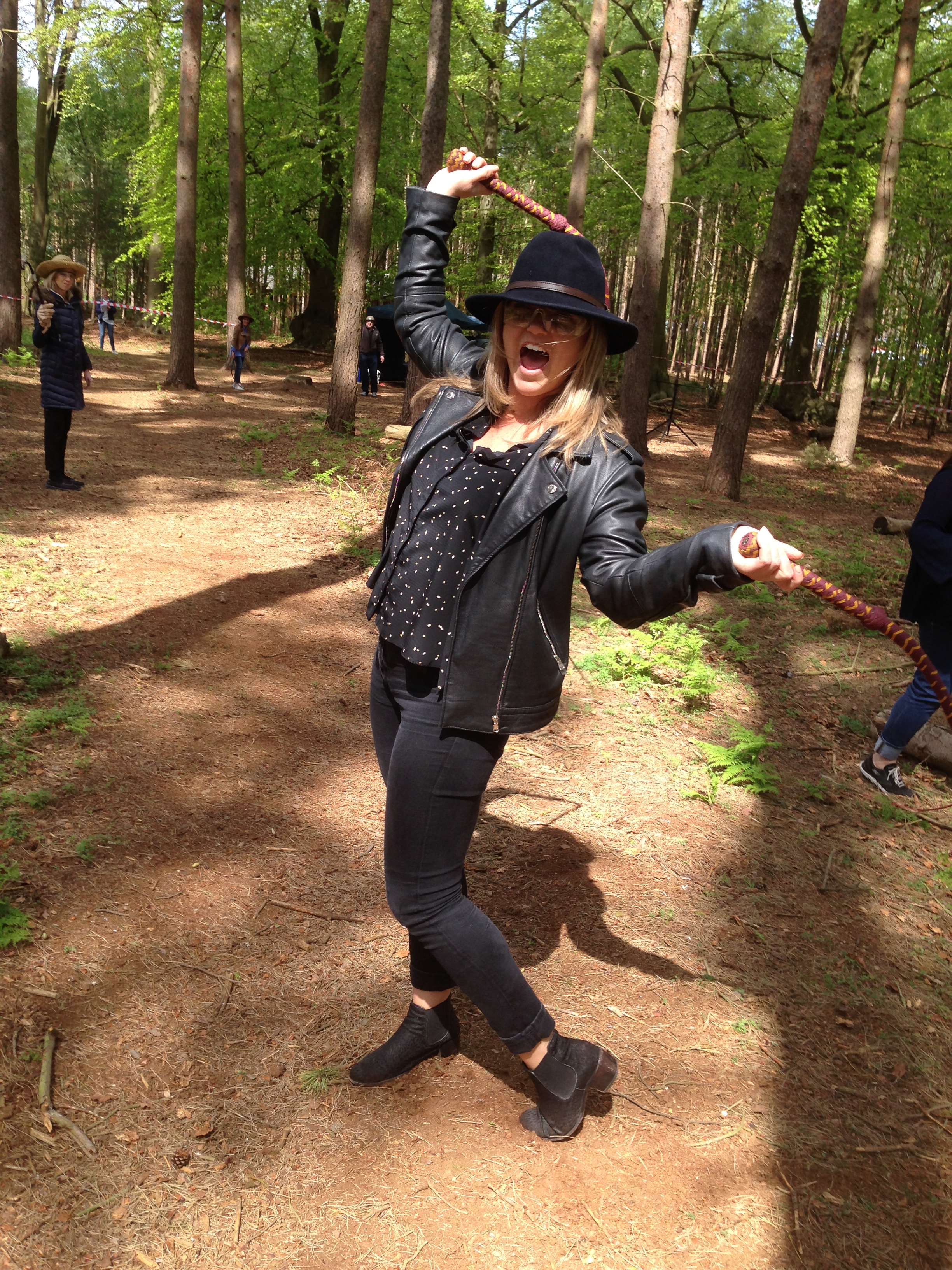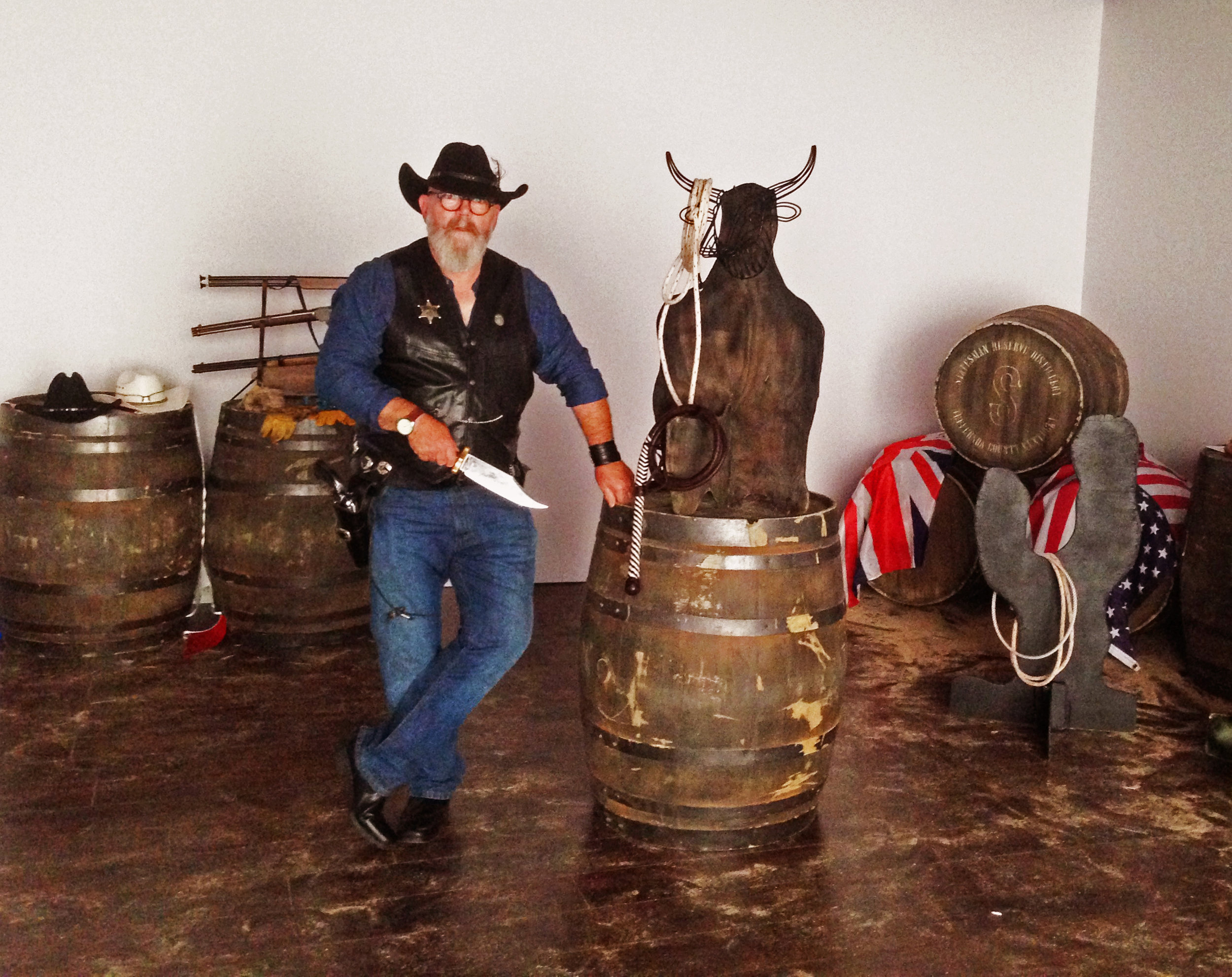 Recent whip, gun and lasso workshops have been for 2000 guests at a Western Festival for an International media company Fun Day.
We also trained 40 of the worlds' top "media influencers" for the launch of the latest Kingsman Film " The Golden Circle" at the "Top Gear" airfield and took over an authentic western town for the DVD launch of " The Magnificent Seven",
Plus one to one training for actors and stuntmen and an Indiana Jones team builder for O2 in a forest. You can see us in action here where we taught the extraordinary charity fundraiser Joel Hicks a whole range of performance skills in just one day.
In this next video we had the pleasure of working at the UK's only authentic Western town, Laredo in Kent, teaching all the skills seen in the film The Magnificent Seven (including the machine gun!)
Being taught by award winning international circus performers who really know how to teach is the best way to learn.
Peter was a senior lecturer in Sport and Recreation for twenty years before he ran away to the circus, his unique teaching style has been described as " dynamic, scary, engaging, enthusiastic and entertaining " ,
He's gone on to become European and International Western Skills Performance Champion, a UK and European Whip Grand Master and one of only three certified European Western Arts Club "Master Trainers"
He's received training at Circus Space in London and with American, Australian and European World Champions in Texas , the UK and The Czech Republic.
He's trained the actor Jamie Ball, the cast of No Fit State Circus, comediens Lee Max and Danny Baker, the cast of Cameron Mackintoshs' production of Barnum! writer and playwright Ben Elton, Charlotte Church, The Chief Rabbi of Wales, Lord Stokes and has appeared on several TV programmes, commercials and films. .
Whether it's teaching Ben Elton to crack a whip in three minutes, teaching gun spinning , lasso throwing and whip cracking to beginners in twenty minutes to a weeks workshop of Western skills for famed street performer Logy Logan. .. you choose.. we'll deliver.
Choose from the following Skills
Some age restrictions apply:
Cowboy Whip Cracking , Indiana Jones style whip cracking(Beginners to expert performance level)

Lasso Spinning (mini lassos, fifteen foot and twenty foot red spot lasso cord and the Cameron Diaz rodeo cowboy lariat.

Cowboy Roping / Lasso Throwing ( With lariat and cowboy ropes, complete with Cactus and Bull head targets.)

Horseshoe Tossing ( not as easy as it looks and a nice addition to any western skills workshop)

Crossbow Target Shooting (Peloton target darts) ( OK, it's not Western Skills but have you see what a person can do with a bow and arrow? trust us this is more fun and easier)

Knife Throwing (Cold Steel customs, bayonets etc ) See the Knife Throwing workshops for more details.

Axe Throwing (Flying Angels, Flying Gabriels)

Gun Slinging (How to draw, holster and spin a gun like a professional!)

Card Sharp Throwing , ( A cross between The Gambler and Gambit ) chunks of flying steel into targets, The Parachute Regiment loved them!

Safety firearms training with Colt 45 live blank firing and 1914 Browning Automatics.

( New for 2019 ) "Winchester" Red Rhyder Rifle Target Range (BB) With a commemorative target to take home as a souvenir!

Machine Gun Target Range Thompson SMG BB ( We had to get one for the DVD launch of the Magnificent Seven that we did and it is so much fun! )

( some skills are subject to the site suitability, please contact us to check .)
We have the only International award winning whip cracker and professional live target knife thrower in Europe as your lead tutor and assisted by his talented team we can offer the full range of skills to any number of guests at excellent prices. .
Delighted to say that we can now offer first class circus training in Welsh as well.
These are photos from the UK's International Western Skills Festival which was founded by Peter in 2014 and attracts circus performers and western fans from as far away as America and Iceland!
For Festival and Fetes "Pecan Petes" Wandering Workshop of Wild West Wonders offers a drop in cowboy workshop on the hoof!!
Safety First
With a Chartered Health and Safety professional as your lead tutor, be rest assured of your guests' safety without any of the fun and excitement being removed ! :-) All safety equipment, Stetsons , safety briefings, risk assessments and PLI insurance is provided.
Immediate Media, Fox Studios, Sony Studios, Admiral Insurance, Guides, British Airways, every primary school this side of the Pecos. Scouts, Lloyds Bank, National Museum of Wales, Royal; Armouries, Llantwit Major Victoriana Day , Bryn Gawr Manor Hotel Victorian Christmas Faire. Sea Scouts, Celtic Manor Hotel, Bath Racecourse, Missenden Abbey, University of Glamorgan. Cardiff University, Hafod Housing Association, Heathrow Airport Builth Wells Showground's, Scouts Association Llanfair Caereinon Show , Disneyland Paris, Cameron Macintosh, London Burlesque Festival, Circus Space, British Gas,
Circus Workshops , Victorian Circus Workshops, Circus and Play Workshops. Please see below for what we have on offer and the Corporate Workshop page for the best energiser sessions available . For further information please click on the block to contact us via email or phone 07875 826773 / 01446 747176 for prices and availability.
A whip buying guide for beginners, reviews on whips available across the world. UK, Europe, USA, Australia and elsewhere
Where to buy a whip, how to crack a whip. How to tie a cracker on a whip. Whip maintenance.
How to make your own whip cheaply.
A whip cracking resource guide for family friendly sports whip crackers, circus performers and beginners who want to take up this great sport.
Any questions please contact Pete Gamble on 07875 826773 or email ahandfulofhats@gmail.com