A Jolly Good Show !
This bubble fueled biplane flies in to bring the joy of bubbles anywhere he can touch down.Trailing masses of bubbles accompanied by rousing songs of the air he'll land nearby and taxi in to touch the hearts of young and old.
With an interactive bubble workshop, bubble quiz and bubble competitions, "Make Bubbles not War ! is the cry!
Stand agog whilst he tries to get the old girl back into the air! Crikey chaps, watch out in the sun!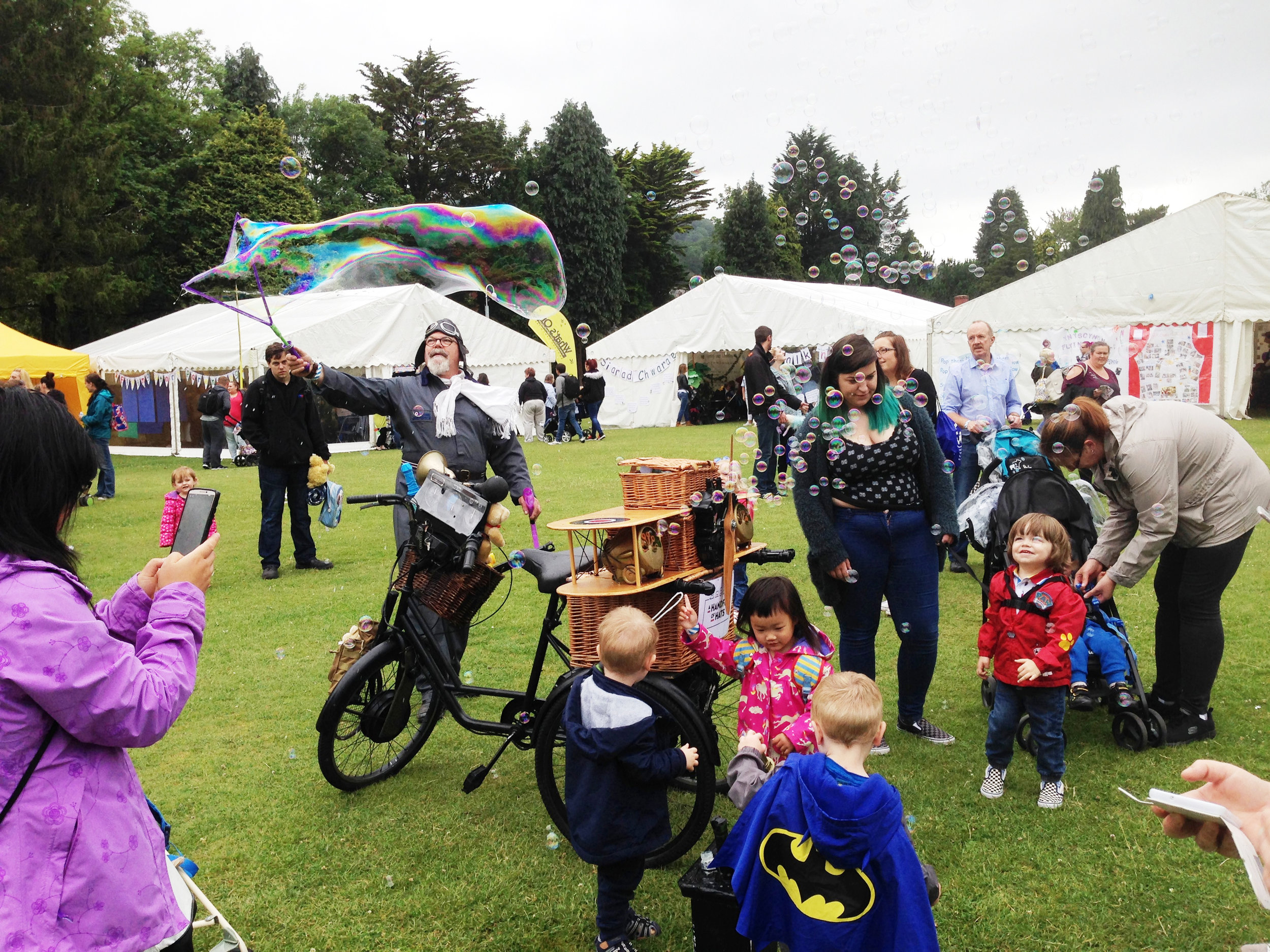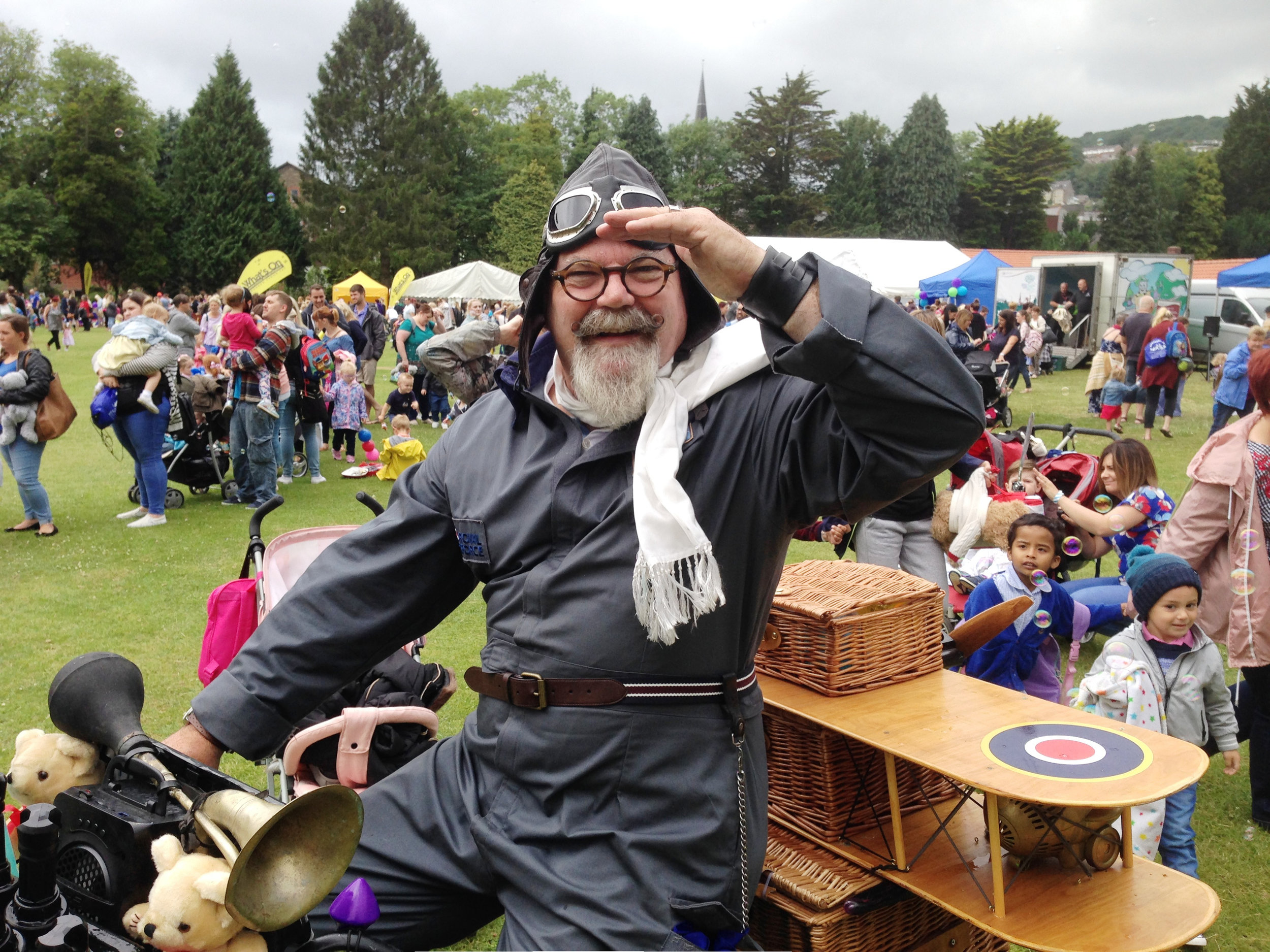 Juan "Dip" Buble!
The King of Carnival! Juan is the spirit of South America Rio with his big heart and love of dance and bubbles, a frothy cocktail of bubble workshops, spinning plates , ribbon dancing, marakas and tambourine playing. You don't believe him? see him in action.
Charlie Bubbles and the Bubble Orchestra!
A musical Bubble Trike, with interactive bubble workshops, musical bubbles, bubble quizzes , competitions and Giant Bubble displays too
He used to play the clockenspiel for the Sydney Symphonium but he ran away to the circus to pursue happiness making music with bubbles !
This cheeky Cockney chappie is out and about with his bubble orchestra, in no time at all they will all be making more bubbles than you can shake a stick with giant bubble displays and glorious music from his musical bubble trike.
He's got big bubbles, small bubbles, hula bubbles, bouncy bubbles, flying bubbles and bubble workshops, games and competition for all and all the fun of the fair in a glorious circus and bubble show and rideabouts on his Musical Bubble Trike .
Parades, Fetes, Fun Days and Wedding fun.. half days, all day or all week anywhere .. based in South Wales and performs across Europe and beyond.
Pontycanna Jones and the Raiders of the Lost Archive!
Great fun for your Indiana Jones themed event, film launch and Super Hero Day
"Ponty! " as he is known, is on a quest and fortunately he's blessed with Super Powers but he'll still need the audience to help him!
Thrill as our lovely boy battles evil to save the day.
Dum, De Dum, Dum!
There's a recipe see, written long ago ......... hidden it is , far from the hands of the sworn enemas of the Welsh, those dastardly Inglisi, and that recipe is the secret of the pasty that made this nation grate, if only someone could find it and save the day!
Well, he might,, some day soon, just by here , but only if he can get some help to : Run away from giant bouncing balls of doom, solve the puzzles , read a map (for he is truly awful at maps ..) fight the giant snakes and rats and capture the baddies .
A 5 to 35 minute show with 2 x 45 minute walkabout whip cracking workshops !
Any resemblance to Indiana Jones is a pigment of your imagination and should be treated by a doctor for it !